• blog • crafts • crochet • sewing • tutorial
WOW ~ I was so excited when I came across this EGG-CELLENT Apron crochet pattern ~ and its a freebie ~ We like that bit don't we ladies ♥ Perfect for harvesting up to 19 fresh eggs in the cutest little pockets ~ if you don't have chickens in your brood you can use this for fun Easter eggs hunts  The kids will just love these and you can make them as colourful as your like ~ Imagine a Rainbow one........Getting a bit too giddy now with that thought! There is a Phone pocket too ~ mixing up the Rural...
---
• blog • camper • cats • crafts • tutorial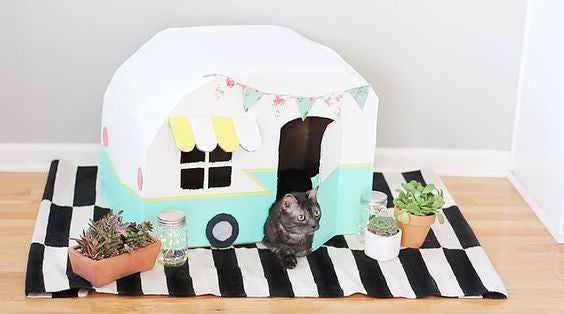 ✧✼✧ ADORABLE KITTY CAMPER  ✧✼✧   HOW TO MAKE A FABULOUS RETRO VINTAGE KITTY CAMPER Cats & Campers....what's not to Love and believe me you will LOVE this. We all know just how much out Kitties have a passion for cardboard boxes well your furry best friend will be super stoked with his very own camper. Easy and fun to make.   I came across this amazing free tutorial whilst browsing cuteness.com, a super cute blog and an absolute must for all animal lovers.   I shall pop the Link below and it will take you straight to cuteness.com and...